As our life gets more and more complicated, we are much more susceptible to mistakes. How many times did you delete or modify a file before realizing the old version was much better? Things like this can be avoided by simply making backups of your files.. and why not do it automatically?
The process of backup is not new, people are using it since the beginning of computers, but its importance wasn't very big for users usually. Server administrators are used to this process and most of them use automatic file and database backup services.
The problem of backing up data for Windows users (end-users) has not been an issue though until recently when it has been made easier and affordable.
But what do you need to have backed up? Well, everyone can give a different answer to that. Personal data, pictures and most important: work files are very important for everyone.
So, what do you need for this task? Well, not much. First you need a backup program. One of the easiest to use yet still very powerful and configurable program is
Back2zip
. And the best part.. it's also free! This program runs on background, performing backup of the data you choose based on a predefined schedule.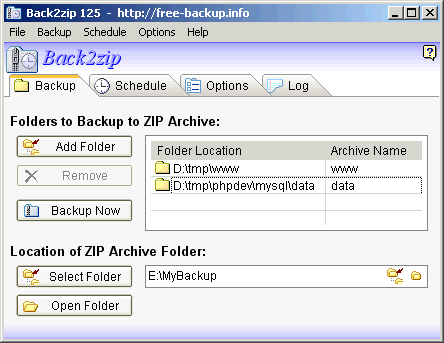 You must specify a place where backups will be stored (if possible choose a different hard disk - data loss is very often caused by disk failure). Then, set up which directories you wish to make backup of and you're done! Optionally you can choose compression for your backups, how often to backup data, save or not old versions of your file.
The archiving option is very much my favorite, allowing you to easily make copies of your work ready to burn on CDs-DVDs. Since they are packed they are much safer when it comes to viruses or other malicious software. Still, keep in mind that better compression means more it will take, also more resources are used, so it is up to you how decide how small your files will be and how many resources can be used - which can be an issue when it comes to many or big files.
Data backup has never been this easy and efficient and most important.. free!
Other software can be found over the Internet, both commercial programs and free, it is up to you to decide which suits you best.
Related links:
http://free-backup.info
Posted by: Indy on February 26, 2006 at 19:20.