Because Internet Explorer is very exposed to viruses, and the use of Firefox, Opera and other alternative browsers has become something usual, you may want to disable Microsoft's integrated browser.
It's a very easy, yet rewarding task. Here's what you have to do:
Go to Tools menu, and click on Internet Options.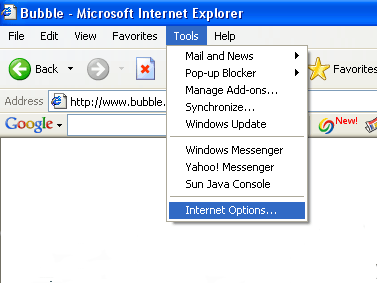 In the window that appears click on "Internet connections" tab, and then on the "LAN Settings" button.
You need to click the "Use a proxy server" checkbox, and then enter in the Address box the address "0.0.0.0" and in the Port box "80" (without the quotes, just like in the image above). Click the OK button twice.

What we are doing is telling IE that we want to use a proxy server and that its address is one that doesn't exist. So when IE tries to go online it won't be able to, because he can't access the proxy. If you want to learn more about proxies check out this article: http://bubble.ro/What_are_proxies_or_how_do_I_protect_my_anonymity_on_the_Internet.html
If you decide that you still want to use IE at some point in time, just uncheck the "Use a proxy server" checkbox (from the last image), and everything will be back to normal. Hope this helps!
Posted by: Nitro on March 5, 2006 at 12:55.