From the Latin word "proximus" which means "close". A proxy is actually a server which helps you have anonymity on the Internet. It is like a wall between you and the net. When you use a proxy, the webpage on the other side won't be able to see you, but just the wall (proxy), thus making you anonymous.

When you want to use a proxy all you need is the Internet address of that proxy (an IP) and the port through which you can use it.


The advantages of proxies versus other methods are many. First of all almost all programs these days which can connect to the internet, can use proxies, so this makes them a very popular protection method.
Another positive element of a proxy can be that it sometimes removes cookies, banners, ads thus making your web surfing much faster.

Of course it can have downsides, like the fact that most public proxies are not very reliable, and that the proxy administrator can spy on your traffic.

If you want to get a proxy address try this page http://www.aliveproxy.com, and look for highly anonymous proxies. The transparent proxies and the anonymous proxies can still give out informations about you.

If you want to use a proxy with your browser, all you have to do is:

Go to Tools menu, and click on Internet Options.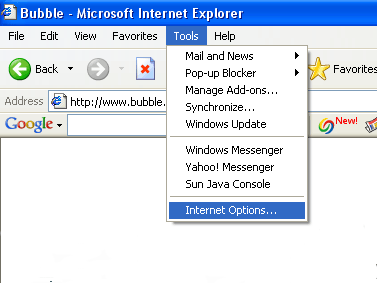 In the window that appears click on "Connections" tab, and then on the "LAN Settings" button.
Here you have to select the "Use a proxy server" checkbox, and enter the address and port from the site mentioned above in the appropriate boxes, and then press OK two times, and your set.
Firefox Alternative:
Go to Tools menu, and click on Options.
In the window that appears click on "Connection Settings".
Here click on the "Manual Proxy Configuration" button and enter the proxy address and port you have from the site mentioned above, in the HTTP Proxy address and Port boxes. Click the OK button twice, and you're done.

You can see that in Firefox you can also setup other proxy types as well as SOCKS, in which I won't go into right now. Safe surfing!
Related Links:
http://www.aliveproxy.com