Did you ever want to see how your website looks like in various browsers and operating systems? Now it's easier than you think: just let this neat website do screenshots of web pages you choose.
How does it look like?
For years, one of the biggest problems for a webdesigner was how his website looked like under various platforms and browsers. It was not an easy task even to find out which browsers are used by most people, not to mention to try out various operating systems as well.
Well, luckily for us, a website was created (although it is still in beta right now) to help with this:
Browsershots
.
All you need to do is enter the web pages you wish to see and let it do the job. After it's been captured, you can come back and see how it looks under the browsers and systems you choose.
Now smile at the camera
This website allows you to view thumbnails as well as full size pictures under two resolutions (800x600 and 1024x768 pixels) and it can prove to be a really useful tool for webdesigners.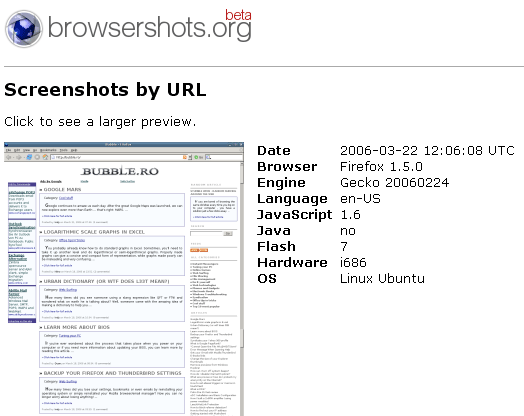 You can now spot very fast where there is something not properly aligned or with a strange font size.
Browsershots allows you to view the running queue as well, an estimated time until each picture is taken, recently taken screenshots, so can always find something new to look at while you're waiting for your pictures to be taken.
We are very satisfied with the progress so far and can't wait for it to get over the beta stage.
Related links:
http://browsershots.org
Posted by: Indy on April 6, 2006 at 13:40.